Could We Love? was shelved for this drama, which is a big let-down on my part. This drama is still rather intriguing but not the type I would need to watch immediately. I just felt like covering it just because I like the cast. 
SBS's new fantasy romance drama I Hear Your Voice is public defenders who take on the toughest cases with less than 1% chance of winning. A boy who who can hear people's thoughts, which kind of comes out of nowhere. He teams up with the heroine to investigate cases. His arrival changes shakes up the government public defender's office and changes Jung Hye Sung's approach to work.
New details on the plot show that Hye Sung has an enemy in the court, which is Prosecutor Seo Do Yun. She gets in hopeless competition against her, until one mysterious boy appears. With the help of that boy, now she has a powerful weapon against Do Yun.
The premise is still vague thus far but sounds a bit darker than the usual fare of its writer, Park Hye-ryun, who previously wrote cheerier fare such as Dream High, Kimchi Cheese Smile, and Nonstop 5.
I Can Hear Your Voice follows All About My Romance in June 5.
THE CAST
Lee Bo-young (My Daughter Seo-young) She plays Jang Hye Sung who is a 27-year old bold, sassy, thick-faced, comical female lawyer. She's the daughter of a poor maid and had to study like a hell and worked very hard to be a lawyer. She's a self-made woman who doesn't like to be bothered by other people. She is a prickly edge, sharp tongue who doesn't have a bit of concept or manners and finds it hard to be enthusiastic about what she does. She does her job just because she's paid to do it.
Yoon Sang-hyun (Can't Lose) He plays Cha Kwan Woo who is a 33 year old serious, passionate and macho former police officer who becomes a government lawyer. He is fiery and full of righteousness although he's not actually all that good at his job even though he loves it. But he truly believes in trying to make a difference in the world. He also doesn't have fashion-sense. He wears white sock, black shoes and stupid glasses.
Lee Jong-seok (School 2013) He plays Park Soo Ha, a 19 year old boy who has the ability or superpower to read the people's minds when he watches their eyes. He's described as a quintessential guy with a mysterious charm which can be confusingly both manly and boyish. He has sparkling chemistry with anyone he comes into contact with, which makes women fall for him. Although there's only one woman in his heart who is linked to his painful past. 10 years ago, one girl helped him to find out the person who murdered his father. That girl who bravely testified in the court, stole his heart. He swore that he would protect and guard her if he can meet her again.10 years later, he meets that girl again but that girl has changed.
Kim Hae-sook (Childless Good Fortune) She plays Hye Sung's mother.
Kim So-hyun (I Miss You) She plays Hye Sung's childhood counterpart.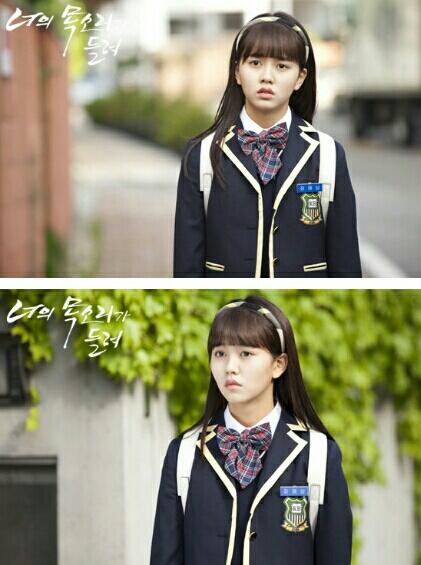 Lee Da Hee (Welcome Rain to My Life) She plays Seo Do Yun, a 27-year old prosecutor who comes from an elite family. Her father is a judge while her mother is a doctor. She pushes for perfection since she wants to be a perfect daughter for her parents. She considers Hye Sung as a rival in the high school due to an accident where she almost lost her eye.
Choi Soo Jong (Cheongdamdong Alice). He plays Choi Yoo-chang, a public worker with talent and wit. He is also a helper between Hye Sung and Kwan Woo.
MORE STILLS
TEASERS
POSTERS
POSTER SHOOT
PRESS CONFERENCE
SCRIPT-READING
BEHIND THE SCENES